It's been a WHIRLWIND WEEK... but hey! IT'S FRIDAY!!! Enjoy these random pics from this past week...

Cindy Crawford, CUTE! Shopping in Beverly Hills on Monday...

Mary J. out supporting Carol's Daughter African American beauty brand at Sephora NYC on Thursday. Mary, I'm not liking this look on you at all... you are sooooooooooo past this stage... NOT CUTE.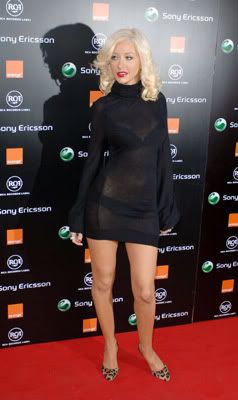 Christina in London on Thursday doing press... She has an album coming out... and I'm surprised, I don't really mind this look. You know what they say, If you have it... and she IS covered up, but you be the judge...
Ok people! Albums don't sell themselves!!! Janet at a press tour in Washington, D. C. promoting her new album on Thursday. I am not mad at her, she just lost a lot of weight and if my tummy was toned enough to wear this get up, you better believe I'd have it on with a spotlight and some flaming red arrows...
I don't know who advised Jessica Simpson that it would be a good idea to wear this outfit on TRL to premiere her (
not good at all
) new video
"Public Affair"
on Wednesday, but whoever it was, they need to be
severely reprimanded
.
NOT CUTE.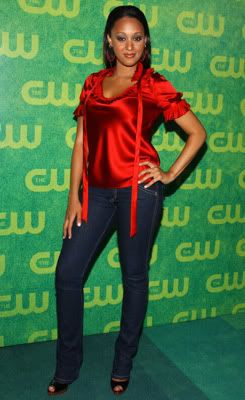 Tia Mowry attended the new CW Television Network Party in Pasadena on Monday in an unfortunate and again ill-advised red satin blouse. Look, let me let ya'll in on a little something about satin if you didn't know it already. Satin is
NOT
your friend. Satin is
VERY
UNFORGIVING
. Satin will
MOCK YOU
if you are just the teensiest bit overweight and you try to wear it out. Satin makes you look
LARGER
than what you really are, should I continue, or do you get the picture? Don't get me wrong, satin CAN be worn, but the pre-requisite list for being able to wear it is so long, why even go to the trouble. That said, Tia, as cute a girl as you are, too bad your outfit is
NOT
.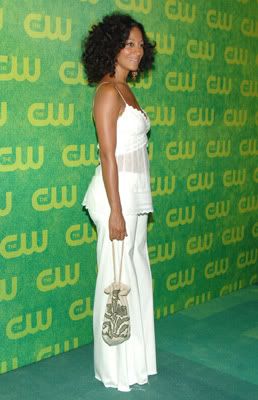 Lastly, Tracee Ellis Ross attended the same CW Network Party in Pasadena. I must say Tracee is on top of it 99% of the time, and this time is no different. I rarely dislike what she has on... although I could do without the hairy spider looking tarantula earrings... everything else she's wearing gets my kudos! Have a great weekend! Until next time ya'll!