It's already Monday again, and I have not posted since last Thursday (busy, busy)! So I added extra pictures to this photo post to make up.
It was a busy week last week for Hollywood... the 2006 ESPY Awards taped in Hollywood last Wednesday (it aired on Sunday night) and Sanaa Lathan arrived to present...
Two words for Sanaa...
FLAW. LESS.
She is already a pretty girl, but she has got to have some of the top people working on her team. Her makeup, her hair, her dress. Near PERFECTION.
Model Claudia Jordan below posing with Sanaa. I would NOT have taken this picture with Sanaa while she was this on top of her game... Claudia even looks confused...
Sugar Ray Leonard was there looking youthful...
And Brandy was also there looking like quite the lady...


Lebron was there striking his best model pose... because anybody can see he really wants to be one... do what you do Lebron...


Check out his head shot...


AT ALL though...



I see you D. Wade, arriving at the ESPY's with your sexy turned all the way up to extra high...


you just need to stop... you are happily married, and so am I...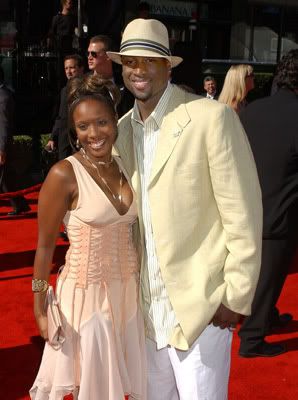 Dwayne & Siovaughn Wade

the 2007 Sunglass Hut Swim Shows went down in Miami, and Gabrielle Union made an appearance...
I am absolutely LOVING her hair minus the long extensions! She wears this style really well...
Nicole Richie made an appearance at Prada's Waist Down Skirts event on last Thursday in Hollywood...


I think the dress is the cutest thing ever! I love it!



Weighing in at only about three & a half lbs., she is still WAY TOO THIN, but her style is definitely not lacking...
Lastly, Halle Berry showed up to her X-Men premiere last Friday in Tokyo, Japan sporting a new do...

the jury is still out with me on this one, I don't know if I like this new bobbed look on her yet... although it does look better to me from the side.

That's it for now ya'll! Happy Monday!