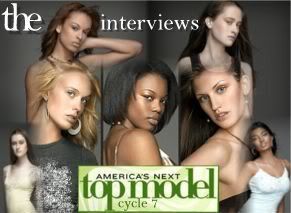 Who knew that I would morph into an entertainment journalist in 2006?! Not me, that's who! I surprised even myself with that one! But guess what? When the doors of opportunity fly open, there's nothing for you to do but walk on through it. So with that being said, click on the Top Model pic above to read my interview with Caridee, the winner of this year's America's Next Top Model Cycle 7, and the rest of the interviews with the girls (pictured) are linked in that post.
And while you're at it, check out 2 other Hip and Juicy interviews that I did with Disturbing the Peace recording artist Shareefa, and cast member from MTV's REAL WORLD Denver, Tyrie exclusively for "Juicy News" Did you get it? "Hip" and "Juicy" interviews ??? Anyway, check 'em out if you haven't already over at Juicy News...
My Interview with Shareefa over at "Juicy News"...