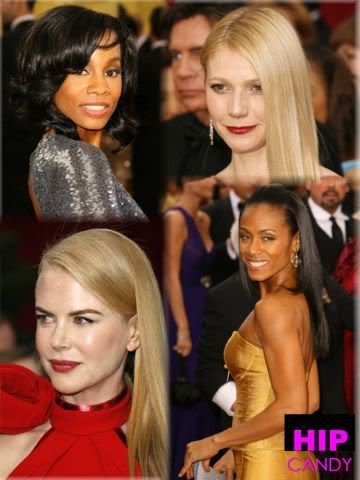 Another year, another Oscar race completed! The show was long and drawn out as usual but I must say, I did enjoy the dancers behind the screen... am I the only one who was completely fascinated by that?! Wow. Congrats to Jennifer Hudson, Forrest Whitaker, and Martin Scorcese (he won his first last night!) And congrats to Helen Mirren... even though I was really pulling for Meryl (Devil Wears Prada), congrats to Helen.. and she looked GREAT didn't she?!


Well on to my short list of who I thought looked great and who I thought... didn't.

Looked Great.
Gwyneth Paltrow in Zac Posen.
Nicole Kidman in Balenciaga.
Helen Mirren in Christian Lacroix.
Jada Pinkett Smith in Carolina Herrera.

Looked Great... Halfway.
Jennifer Hudson in Oscar de la Renta. The cut and chocolate color of that dress looked great on her (and it had pockets!) That cropped metallic jacket DID NOT.
Penelope Cruz in Versace. The bodice (top) of the dress was wonderful... however, I didn't much like the bottom of it... too frou-frou for me.


Didn't like too much at all.
Jennifer Lopez in Marchesa. I just couldn't fully get onboard with this dress.
Beyonce in Armani Prive. That trim going across her chest was all a bit much for me.
Cameron Diaz in Valentino. The stiffness! Nope. Uh-uh. Didn't like it.

See more 2007 Academy Award Red Carpet fashion at MSN.