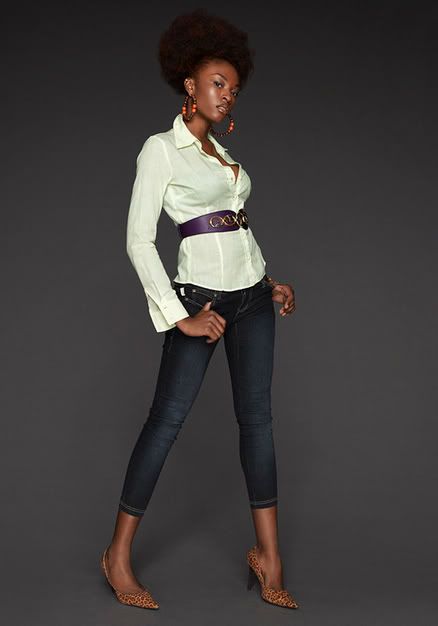 I finally got to talk to
Kathleen
,
America's Next Top Model, Cycle 8's
first eliminee
. I liked her. I really wanted her to go further, but oh well... such is life I guess. She spoke to me about
not having any regrets
, who she'd like to see
take it all the way
, and gave me a
hot tip
on a
happening vintage/thrift store in Brooklyn
where she lives! Check out
my interview with her below
:
Kathleen: Hi Chanel, how are you?

Me: Good! How are you?

Ka
thleen: I'm good thank you.


Me: Well let me just let you know this right now, I was a little upset that you got eliminated so early.
Kathleen: Aww, thank you!


Me: And you know, my first impression of you, from the previews... I didn't really like you at first, but after I got to see you in action... you know, interacting with the other girls, and trying really hard, I said to myself, this is a sweet innocent girl.
Kathleen: Thank you so much.

Me: Was it harder than you might have thought going into it, you think?

Kathleen: Very. Like it was nothing that I expected, you know? Actually being there... it was like, so much pressure.
Me: I couldn't even imagine. So you're from Brooklyn right?
Kathleen: Yes! Brooklyn, New York.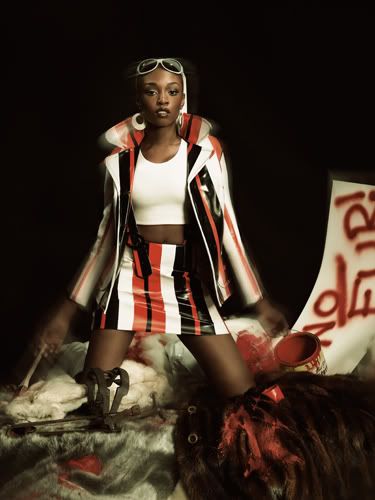 Me: Have you been to Los Angeles before, or was that your first time.


Kathleen: Never! That was my first time!

Me: So did you like it?

Kathleen: I loved it, you know? It's so pretty out here.

Me: How was Los Angeles different from Brooklyn, do you think?

Kathleen: Well, I think the people are much nicer over here (in Los Angeles). Because in the city (New York) you know, everybody's like doing their own thing.
Me: Ok, back to Top Model, how were you chosen for the show?

Kathleen: A friend of mine told me that they were having castings and I went, and I stood on the line, and I waited, and eventually, I made it on.
Me: So they just liked what they saw.

Kathleen: Yeah, I guess my big hair stood out!

Me: Was your family supportive of your pursuit of modeling?

Kathleen: You could say they were supportive, but not VERY supportive. They were just like, go ahead and do what you're gonna do, you know?

Me: Ok, what about your friends, were they supportive?

Kathleen: Well I have this one friend, Sarah, she was supportive. She even came and brought me flowers after I made it to the second round.

Me: Oh, ok, that is a good friend. Well let's talk a little bit about the girls from your season,

Cycle 8.

Who did you like out of all the girls?

Kathleen: I loved Cassandra. Cassandra (the one who had her WIG sewn on...), Jaslene, Felicia, Natasha... but most of all Cassandra, because she was such a positive person throughout the whole time.
Me: Oh ok. Well did you NOT like any of the girls?

Kathleen: Not really, I wasn't there long enough to really clash with anyone.


Me: Yeah, you seemed like you pretty much got along with everybody, from what I saw.
Kathleen: Yeah.

Me: So out of the 12 girls left, who do you see going all the way?

Kathleen: I see Cassandra taking it all the way.

Me: Well you were on the show for such a short, hot minute, you didn't really have a chance to learn and improve and grow. Do you think you could have even done anything differently?

Kathleen: Well, I have no regrets, I feel that everything happens for a reason, but I felt if I had stayed, and if I would have gotten past that first photo shoot, I think I would have done great, I would have made it to the end.
: So what are your plans now that you're done with the show, are you gonna continue to do hair, or are you gonna continue to pursue modeling, what?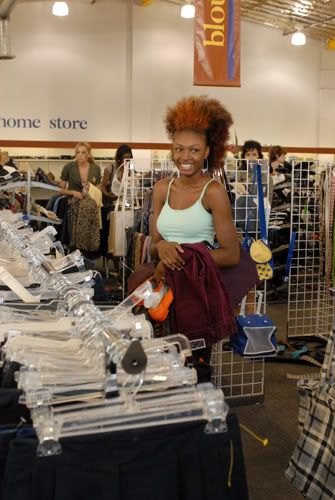 Kathleen: I'm gonna continue to do hair, but I'm also gonna continue modeling. I have to, because it's something that I want so bad, you know? So I'm not gonna give up, I'm gonna continue doing it. Everyone tells me that New York is the place to pursue it, and I'm already here, so I'm pretty lucky.
Me: That's true. So tell me, if I were visiting Brooklyn, New York, where are some spots that are "must see"?

Kathleen: Well, I'd visit Broadway and Canal, which is actually in the city, it's not really Brooklyn, but I'd visit there, and you should also definitely visit
Beacon's Closet in Brooklyn
, it's like the hottest thrift shop, EVER.
Me: Oh, wow, ok. So I will MOST DEFINITELY be checking out that spot next time I'm in town! (Kathleen laughs) Well I surely appreciate you talking to me Kathleen and I wish you much success in the future.
Kathleen: Thank you so much!