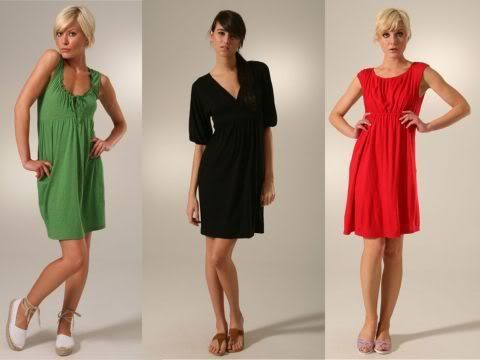 Above: The Slub Jersey Empire Waist Dress by Splendid (the green one), The Vince Jersey Short Sleeve Dress (the black one), and the Very Light & Fashionable Jersey Dress by Splendid (the red one). Shop Bop.

How much do I love the lightweight jersey t-shirt dress? Oh let me count the many ways...

1. They're comfy! They feel like pajamas!
2. They're cute!
3. No zippers!
4. No buttons!
5. Dress them up or down!
6. Wear them in cool or warm weather! (In cool weather with a legging, tights or jeans...)
7. Step into 'em or pull 'em on over your head, then grab your purse and go!
8. Did I mention that they were SUPER COMFY?!

I just purchased this "Evita" Sweetees dress in red, and another long sleeved empire waisted one from Old Navy (find it here. It's the women's knit empire waist dress) which brings my total t-shirt dress collection to 10!
Wear them to run your errands, on a lunch date with the girls or on a dinner date with your honey! They're so versatile!
I ♥ the t-shirt dress, what about you?
Click the pic below to browse & shop for cute t-shirt dresses over at Revolve Clothing and receive FREE Priority shipping and returns.