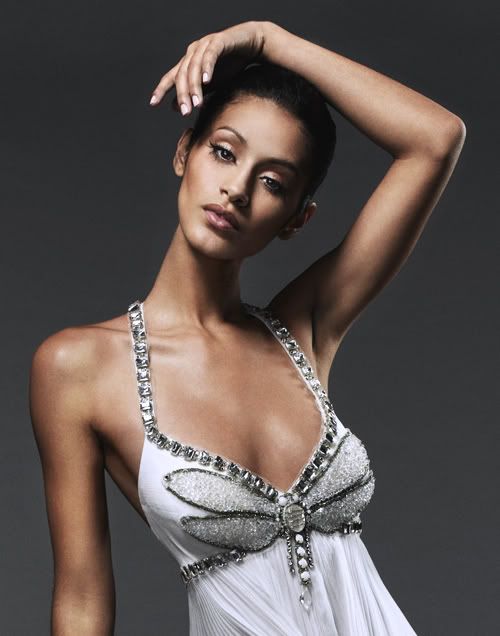 Jaslene Gonzalez of Chicago managed to beat out all of the other girls from

Top Model Cycle 8

to take the coveted title, plus a one year contract from Elite Model Management, a $100,000 contract with CoverGirl, and a cover and six-page spread in Seventeen magazine.

I got to speak with
Jaslene
earlier, and she is one happy girl. She could most surely be the poster child for
not giving up on what you really want
. She spoke about how she couldn't be more proud to represent
Top Model
as the first Latina to win the title, how she's been in a traveling whirlwind since she won, and how long she had to keep the secret that she was the big winner of
Top Model
(
from her family and friends
). She also informed me that although there are numerous webpages claiming to be
authentic Jaslene,
that
she does not have a myspace or an official website up yet.
So if you thought that she added you as a friend, or worse, wasn't responding to you at all, know that
none of those sites are hers
(
there are lots of fakes out there right now
), but she did say that she'll have one up real soon! And she wants people to know, that when her webpage is up, you will
definitely
know its her.
So check out my interview with the winner of

America's Next Top Model Cycle 8,

Jaslene Gonzalez below: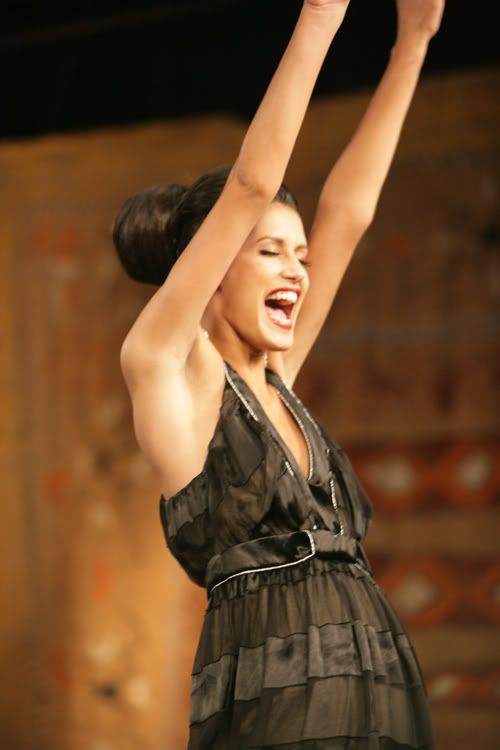 Jaslene: Hey Chanel!

Me: Hey! How are you?

Jaslene: I'm good, and you?

Me: I'm fine. Well, congratulations on winning America's Next Top Model!

Jaslene: Thank you so much!

Me: How did it feel to win it all this season after being passed over last season (Cycle 7)?

Jaslene: Oh my god! It just feels AMAZING! It's like, I feel like a whole new woman! And I feel so grateful and honored, especially since I'm the first Latina, because I embrace my culture and you know, to have this opportunity right here in my hands.. it's just the most amazing thing ever!

Me: When you weren't chosen for Cycle 7, that obviously motivated you to wanna work for it that much harder.


Jaslene: Definitely! It sure did motivate me, you know, I was just like, I'm gonna come back and I'm gonna knock on that door until they open it!

Me: You certainly did that. You mentioned being proud of your Latina culture, how does it feel to represent Latina women?

Jaslene: Oh my god! It feels wonderful you know? It brings me great honor, especially to be the first Latina to win, the recognition is amazing! My Latinos are so proud of me, the love and support that they show me, and it's not just Latinos, like every background, I'm amazed at how much they really love me and support me and everything, it's just a great feeling!

Me: Well how long had you known that you were the winner of

Top Model

, and did you have to keep that bit of info from your family and friends until the finale aired?

Jaslene: Yes, definitely. I had to keep that a secret for about 4 months.

Me: 4 months? I was thinking it was maybe a few weeks!


Jaslene: Yeah! It was the toughest thing EVER to keep that secret! You know how hard it is to keep secrets especially something like that?! But my family was still very supportive regardless of what the outcome would have been, they were so happy and so proud of me just for making it back onto the show.

Me: That was a huge accomplishment. Now you're from Chicago right?

Jaslene: Correct.

Me: Which area are you from?

Jaslene: I'm from the Humboldt Park area, Division and California... that's definitely my area.

Me: Oh ok... how far is that from the South side? That's the area where most of my Chicago relatives live.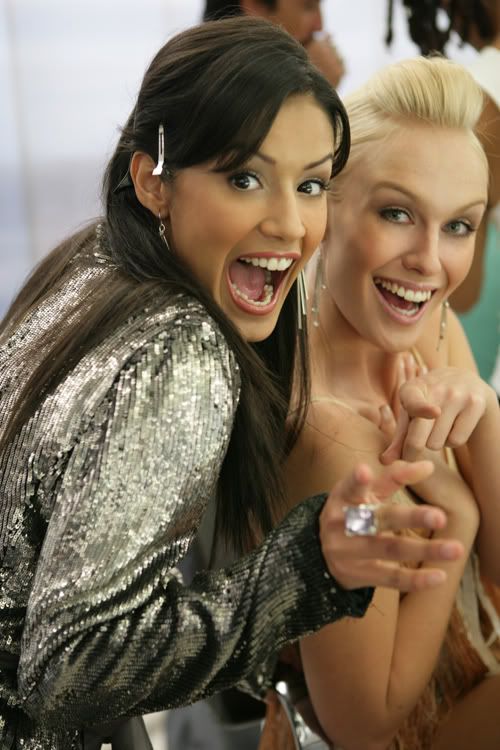 Jaslene: Where in the south?

Me: Like off 95th St. close to Ashland Ave.

Jaslene: Oh yeah, they're South side for sure. My neighborhood is more into the city, like downtown area, north then west, more that way.

Me: So that's on the opposite end of town then. Well if I were to visit them there in the near future, where's some of the best shopping, where would you direct me?

Jaslene: Shopping? Definitely down Michigan Ave. No doubt about it! We have this beautiful long strip of designer stores, and a beautiful skyline in downtown Chicago. To me, we have the most beautiful skyline, it's so clean, the place is so mellow.. it's like a mini New York, only thing it's cleaner you know? So I would definitely point you to Michigan Ave. You would love it!

Me: Great! Well did you have plans to stay there in Chicago or are there big plans to move?


Jaslene: Due to the fact that I just signed with my agency [Elite Model Management] a couple days ago, my schedule is gonna be really busy and with all the work that I'll be getting, I'm gonna have to move to New York like as soon as next month. Which is exciting! I look forward to everything you know? This is what I've been wanting and I knew this was gonna happen. Because if I had planned to stay in Chicago, I probably wouldn't get as much work. In New York, I know, definitely it's guaranteed. I have my agency, and I'll have work, so it's all for the better you know?

Me
: Ok let's get back to
Top Model
, out of all the girls from your season, who would you say that you got along the best with?
Jaslene: I would have to say, at first, it was
Cassandra
,
it's just sad that she had to leave so
early in the competition. And after that, I grew closest to
Dionne
.
Me: You mentioned just before you won, that if Natasha were named the winner, that you would pull all her hair out. Would you have tried to follow through on that if the final results had turned out in her favor?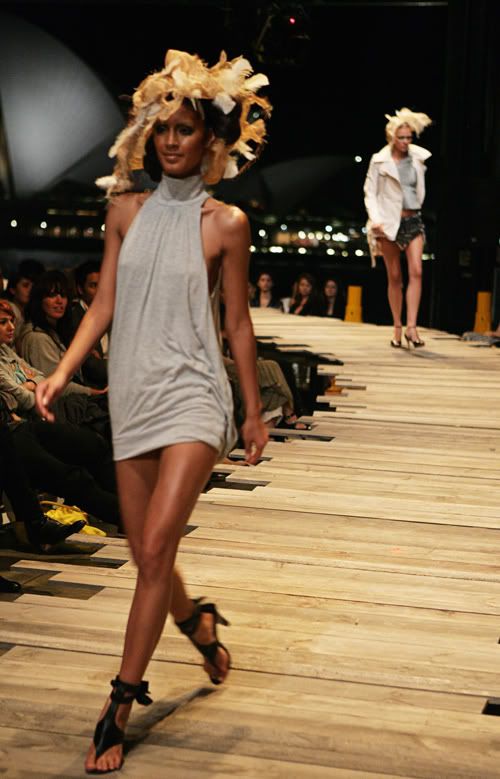 Jaslene: (laughs...) No, no.. that was just me being stupid and silly! I was just trying to be funny. No, but I love Natasha dearly, and I would just wish her and everybody else the best.
Me: So what are you most looking forward to doing since winning
America's Next Top Model
?
Jaslene: I'm looking forward to being on the covers of Latina magazines, you know, I wanna break barriers as a young Latina! I wanna do so many things, I wanna walk for the top designers. It's all out there and I know it's all on me if I want it, and I'm just ready and willing to work hard for it.
Me
: Are you looking forward to all the travel that's gonna come with it?
Jaslene: Yes! I mean I have so much going on right now, I just feel so lucky and so full. I'm already traveling like almost every other day!
Me
: I could imagine that ever since you were named the winner, you've probably been going non-stop.
Jaslene: Non-stop, yes.

Me
: What's one lesson you can say that you've learned from being a part of this competition?
Jaslene: I learned so much! I mean everthing... seriously you come out of there like a whole new person! I came out of there with a huge amount of confidence, I found my inner strength, I found my inner beauty, and I learned so much about different cultures, how the [modeling] business is, and one thing that I really, really learned was how to have an open mind. There was just so much I learned!
Me
: Those are good lessons learned.
Jaslene: Definitely.
Me
: Well I can't really ask you if you would do it all over again, because
you did do it again
and you ended up winning on your 2nd go at it.
Jaslene: Right!

Me
: I think that sends a great message that if you want something bad enough to not give up on it so easily.
Jaslene: Exactly.

Me
: So are you an only child?
Jaslene: No, I'm the oldest daughter. I have two younger brothers and a baby sister who is 2 years old.

Me
: How do your brothers and sister feel about their big sister being
America's Next Top Model
?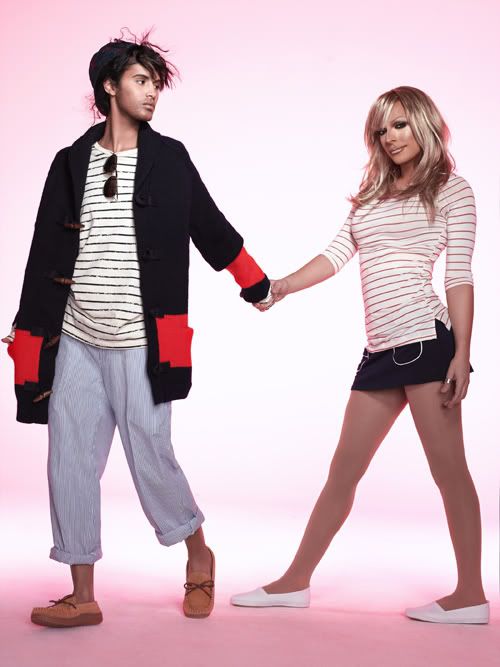 Jaslene: (she turns very sentimental...) Wow... oh, talking about my little sister.. I haven't seen them in such a long time and I miss them so much! I'm just hearing that my little brother is so popular in school now, and my other older brother (19 years old) he thinks he's a model, because he's 6 foot something, and when he mentions I'm his sister, oh my god! Everybody brags.. people are telling him that he should be a model too, because he's tall and skinny, trust me, he's like my twin! I look just like him in that photo when I was changed into a boy... that was my brother hands down. Everybody just very proud and very happy for me.
Me: I'm glad for you too, I was certainly pulling for you [Jaslene: Thank you!] and I just wanna congratulate you again, and just tell you to keep on representing for the chicks that live "down the block in your hood!"

Jaslene: (laughing...) Oh right!

Me: Thanks so much for talking to me Jaslene!

Jaslene: No problem! Have a good one!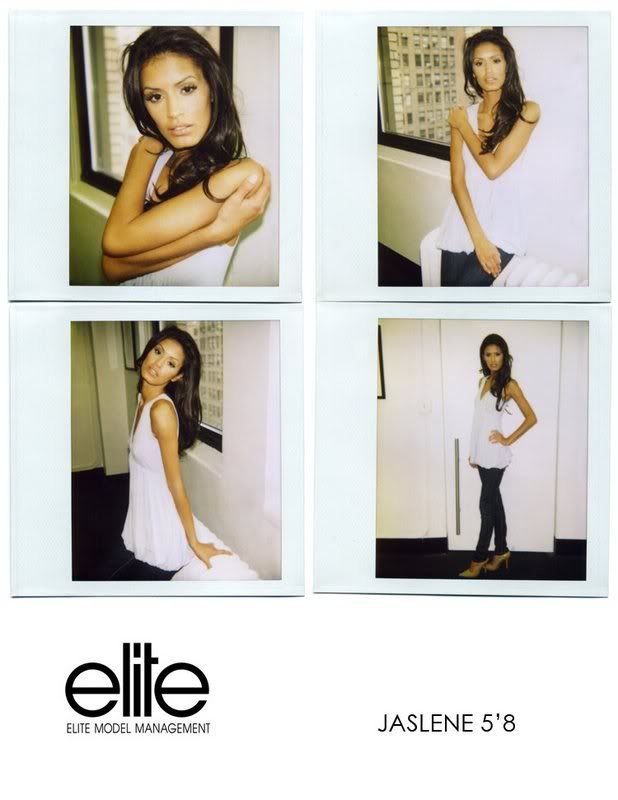 [
Jaslene's Elite Model Management Comp Card spotted @
COACD
]
Past Top Model winners include Adrianne Curry, Yoanna House, Eva Pigford, Naima Mora, Nicole Linkletter, Danielle Evans, and CariDee English.