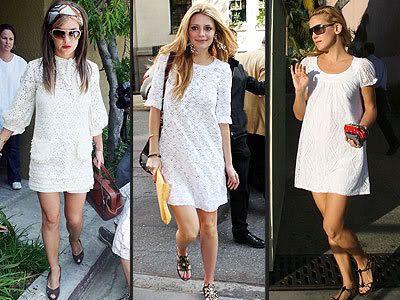 TOTALLY feeling this white lace mini dress trend right now. It's effortless chic at its best IMO. Perfect for summer. I want one! But after finding out the not so bargain prices of the ones pictured (Britney in Philip Lim, $396, Mischa in Juicy Couture, $328, and Kate in Ella Moss, currently SOLD OUT at $158) I think I'll look into making one. Mini dresses are the business this season! I'm loving 'em! But don't let my excitement about this trend cloud your judgement, lol! I really wanna know what you think about the trend. Do you like it? Hate it? Don't care? Would YOU wear it? I wanna know your style verdict.
Click the button below to browse and shop for some
fabulous white dresses
over at
eDressMe!