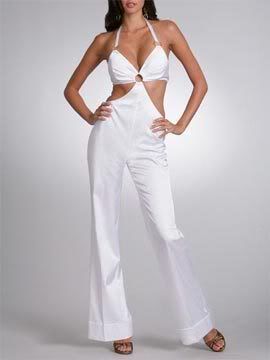 Halter Pantsuit with Cutout Bodice - $128.00
Description: Pantsuit with self-tie halter neckline, shiny gold hardware on straps, center ring and sexy cutout bodice.
When I first saw this on the Arden B. site, my first thought was that they couldn't be serious. I mean, what are the designers over there thinking? That this is cute? That somebody would actually pay $128 for it? That someone would actually wear it somewhere? But then I got to thinking a little deeper. You know who this outfut would be perfect for, seriously? A magician's assistant. Yeah. Somebody who's sole purpose is to go out on stage and be placed in a box on a nightly basis to be "sawed in half" for an audience of about 8 people at one of those tiny small town casinos you've never heard of. This outfit is perfect for that.

See? That's called focusing on the positive.