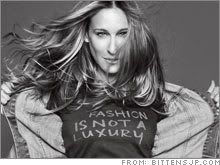 I woke up bright and early this morning to get over to the
Steve & Barry
here in town to check out the
newly released
Bitten line by Sarah Jessica Parker
for myself.
First, what I liked about the line. The price. There's something just so right about
$7.98, $9.98, $14.98
, and
$19.98.
I couldn't be mad about that. I also liked her striped tees, and her message tees. Cute. The peep toe canvas wedges were also nice and summery and they came in a variety of colors. And lastly, I tried on a pair of her brown trouser shorts. The fit was so spot on (
and cute!
) that I HAD to have them. I also think that the visuals that they have of her wearing the gear in the store are very good. But don't make the mistake of thinking that you are gonna look like she looks in a lot of it.
Which brings me to what I didn't much like about the line. Some of the pieces are cut small, similar to a true designer cut. Her jeans especially. I'm normally a size 6 sometimes an 8, but I had to go up to a
size 12
in her
ankle zip cropped jeans
. But by the time I tried the size 12 on, the waist didn't fit me at all, so the jeans were a bust for me. I didn't try on any of the dresses or pants so I can't tell you about the fit of those with certainty, you'll just have to try those out for yourself. Overall, on a scale of 1 to 10, I'll give her line a good 6.5. It's not a bad first attempt. She loses points for cutting her jeans ridiculously small (
I really wanted a pair
..), and she gains points for doing a cute, although basic, low-priced line that's just in time for summer. That makes it easier to stock up on a lot of simple summer pieces for just a little money.
Click to
check out a few looks from Bitten here
.