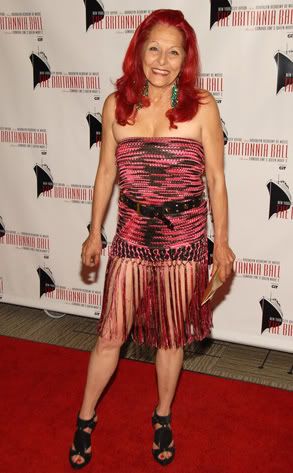 Patricia Field, famed costume designer from "Sex & The City" has put together some outstandingly enviable looks over the course of that critically acclaimed show. Which is why the way she dresses is such an enigma.
It's like this particular hairdresser I use to frequent in the hood years ago. This hairdresser's hair would ALWAYS look TORE UP. Always. But she used to do the BEST HAIR in the whole place. When she finished my hair, it would be so bouncy and full of body, I swear I could have done the slow motion, "swing your hair" scenes in any hair commercial after leaving that salon. Hard to figure, right? Well I think Patricia Field suffers from a similar type of syndrome. She can style OTHER PEOPLE like nobody's business. But she is a complete mess whenever she has to dress herself. Like in the pic above, she's attending a New York City Opera benefit with a multicolored, fringed and belted strapless minidress (that's "this close" to showing off her lady parts) with black bondage-style shoes.
It's just not right.