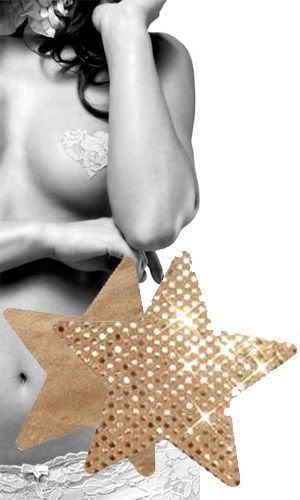 On occasion and from time to time, I sometimes
leave the house
without a bra on
. Ok... so maybe it's really
most of the time
, but I'm not keeping count. It's very freeing to be braless! And bras aren't always that comfortable anyway, especially in the warmer months. That being said, I don't want to walk into a cold building and
*bling*
all of a sudden, my
"high beams"
are on blast for the world to see. Which is why I love
breast petals!
Bristols6
, the company who sells
"Nippies"
online recently sent some to me to try, and OMG!
I love them
. I got the sequined hearts from their bridal collection and some cool striped stars.
Nippies
are fun and ready for a night out!
L'il Kim
took this look to a bit of an extreme a while back, although I think I still prefer to wear mine in a more concealed fashion, thank you. But check 'em out! I personally have never seen them in so many styles and colors
(they even have butterflies!)
And their
double stick stylin' tape
has turned me into a believer as well
(the stylin' tape is the same type stuff JLo used to keep that green Versace dress that she wore a while back from flying wide open).
The tape kept me perfectly closed in when I wore them recently with a slightly plunging neckline. And believe me, I
shook and shimmied
to put 'em to the test. Indeed, they passed.
Check out Nippies for yourself now!