I was reading excerpts from Nina's book in the October issue of my
Elle
magazine, and she has some really good tips in there!
Style tips that make sense
will ALWAYS appeal to me. For example, I don't wanna hear
nothing
about not being able to wear white after Labor Day. Could we
please
get past that one? Pretty please?! Thanks. A few good tips from Nina's book below: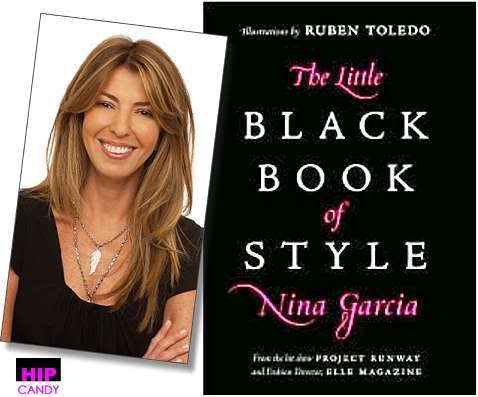 On
The Little Black Dress:
The ultimate blank canvas. It is mysterious and chic, understated and provocative. In its simplicity, it makes you look effortlessly stylish, In its sophisitication, it makes you look endlessly elegant. The little black dress is the dress that is going to let you shine-it will flatter you, but it will not detract from the rest of you. It lets your hair, your accessories, and your personality take center stage. And the slimming effect-let's not forget the the slimming effect.
On Denim:
There is something about jeans that gives a girl an aura of instant style. They are simple and practical. Sexy and perfect. Rebellious and elegant. They are the most versatile, most perfect item. The most alluring part about denim is that it can dress anything down and make even the most uptight items look relaxed.
On Diamonds:
You can't go wrong here. They are perfect for day or night, casual or dressy, winter or summer, with other jewels or not. Fake is fine.
On A Trench Coat:
A classic trench can work in any kind of weather and goes well with almost anything (or almost nothing, if you are feeling very film noir). But the best part of the trench coat is that it makes you instantly mysterious. Wear it with big sunglasses if you want to really channel your inner detective, spy or fugitive.
On
why Nina chose to pen this book
.
Get
"The Little Black Book of Style"
at Barnes & Noble.
Whose birthday is in 12 days
(Oct.12)?
MINE! Yay! And
Nina's book
would be a great gift idea
(for me..)
no? Hold up.
Chanel
, are you seriously gonna
pimp for birthday gifts
on
Hip Candy
??? In a word?
Yeah.