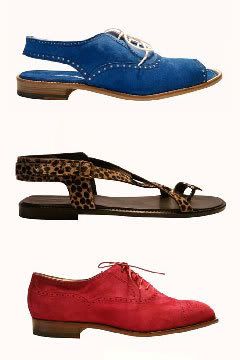 Big pimpin' player alert!
Are ya'll ready for
Manolo Blahnik's
new line of men's shoes? A friend of mine spotted these over at
Luxist.com
[
thanks Nita
] and emailed it to me, and I was a little shocked to say the least...
YOU'VE GOT MALE
AFTER an absence of seven years on the menswear scene,
Manolo Blahnik
has dusted off his sketchbook - and created a line of men's shoes so fabulous (lol!), they are pretty much guaranteed to knock your man's socks off. The six-piece collection runs the gamut from safely stunning (the red suede Oxford brogue), to the outrageously gorgeous (in the shape of leopard print sandal, Bir). "It's not a big collection," reflects the designer, who was honoured with a CBE just a couple of weeks ago. "There are some simple sandals in beautiful materials, and a few classics - with a twist. I thought it was time to bring back some colour into the male wardrobe." Look out for the collection, due in store from February.
Wow. I can't wait to hear what ya'll think about this one.