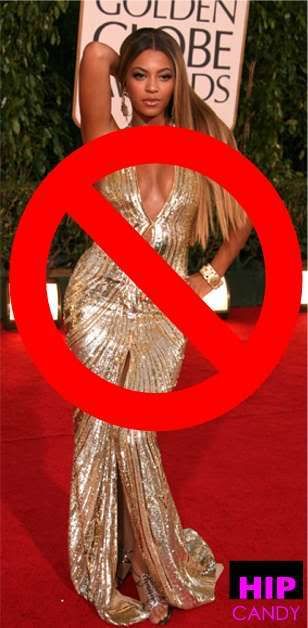 That's right. You won't get to see Beyonce on the red carpet in all her golden, overposed glory. Her or anyone else for that matter. The writer's strike is still in full swing. You'd think that studio execs would want to resolve things before it came to this... but you'd think wrong. Below is an article on the Golden Globes tonight (or lack thereof) that I thought was interesting.
Tonight Golden Globes Gowns Will Stay On the Rack
Cancellation Gives Designers/Stylists Unexpected Vacation
by Mercury News
Katherine Heigl's stylist went on vacation last week to Mexico. Makeup artist Pati Dubroff's cell phone and BlackBerry have gone extraordinarily quiet.

A change in format for tonight's Golden Globe Awards from a jovial awards dinner and ceremony to a news conference doesn't just mean disappointed award winners - it means a rolled-up red carpet. Think of all the glorious gowns that will go unworn.
It was unclear if celebrities - even the nominees - would attend the untelevised ceremony because they still might have to cross a picket line of the Writers Guild of America, and the actors' own union encouraged its members to skip the event in a show of solidarity.

That means no wardrobe analysis Monday morning, no best dressed/worst dressed lists, no new designer name on the lips of every fashion fan. Stylists, makeup artists, hairdressers and all those who run the marketing machines in Los Angeles find themselves with unexpected time on their hands.