I recently got an opportunity to try Elizabeth Arden's new "Intervene" makeup with SPF 15 which claims to put a pause on aging signs, while smoothing away imperfections for brighter, even-toned skin. And I have to tell you, when I first opened it, I immediately thought it was too light, but I quickly found out that it wasn't (which only means I'm in need of a long vacation in some sun to get my "brown girl" back on... lol!) So after all that was established, I was off to my bathroom to test it out on myself. My skin tends to be somewhat blotchy at times, but I was pretty pleased with the Intervene and how it smoothed most of that away. It went on creamy, but left a kind of powdery finish that I liked. I'll tell you what else I like about the product. It's 100% oil free. That's great if you have oily skin. And the added SPF in makeup products is always a good thing. Going out in the sun with no skin protection at all is no good for anyone, no matter what your skin tone. Overall, I gave the Elizabeth Arden Intervene makeup a thumbs up.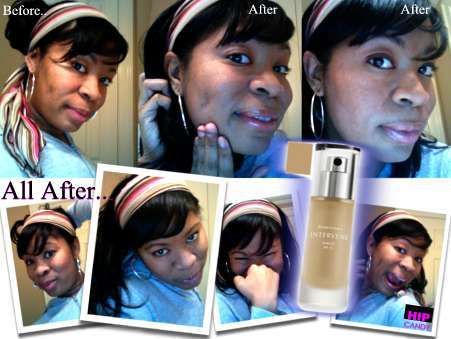 Check out more of Elizabeth Arden's new
Intervene Makeup SPF 15 here.