I had the chance to speak briefly with new designer
Alexis LaMontagna
before her debut fall runway show at
Los Angeles Fashion Week
, and although she was just a tad nervous, she couldn't have been sweeter. My interview with her and scenes from her show below:
Me
: First of all, congratulations on your line, this is your first time showing, right?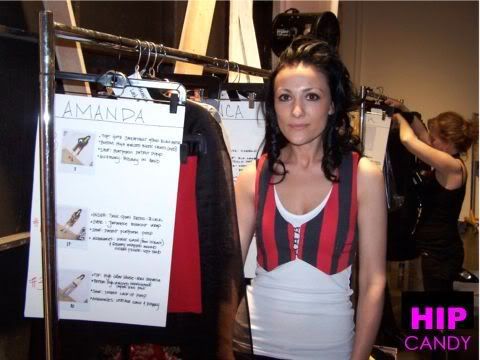 Alexis
: It is my first time ever, my first collection ever..
Me
: And you graduated from
Otis
(College of Art & Design)?
Alexis: I actually didn't graduate, I went for a little while but I didn't graduate. It was very tough.

Me
: Yeah, well design school is way tougher than a lot of people might think, wouldn't you say?
Alexis
: Design school is
brutal!
It was very tough.
Me
: I know, right?! I went to
FIDM
, and you go in thinking that it's gonna be a cake walk and it's NOT.
Alexis: No, you're right! Design school is a lot of work.

Me: So what can we expect from your first line?


Alexis
: Well, my vision for this collection was kind of a goth glamour, a little bit of Jean Harlow, but still very goth.
Me
: So are we gonna see lots of black, or did you incorporate some color into this line?
Alexis
: You'll see a lot of black, but there's also some red. Mainly black and red.
Me
: Ok, I have a question for you, kind of off-topic. As a brand new designer, how do you feel about all the celebrities that are coming out with clothing lines and the impact that may have on newer designers out there, such as yourself?
Alexis: You know what, I'm not a hater, I think... why not? I think that they're cool.

Me: So you don't think that it [celeb clothing lines] impacts designers at all at some level?

Alexis: Well sure, I mean, if you have a celebrity that's gonna back a line and wear the clothing, then yeah, there's automatically gonna be lots of girls that are gonna wanna dress like them and look like them, so of course it does have an impact.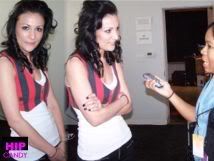 Me
: Where do you see your clothing in the next few years after the showing of your first line?
Alexis
: I am just very interested in growing my line and growing up, and having my line grow with me.
Me: Ok, well I can't wait to see what you're sending down the runway later.

Alexis: Thank you so much!