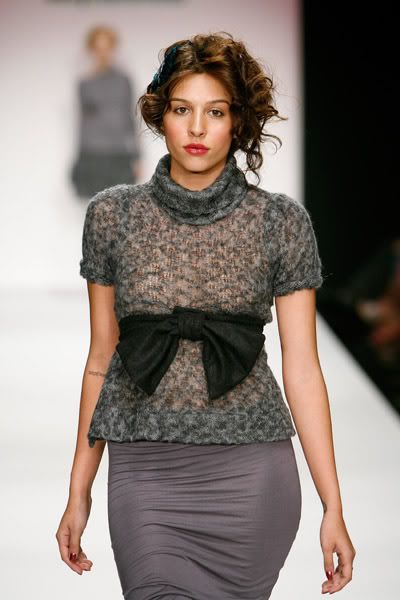 My 5 year old niece
Autumn
had a conversation with me not too long ago about the bows that she wears in her hair and she was expressing her dislike of their massive size. I think her exact words to me were,
"sometimes the bows in my hair are so big, I can't even believe it!"
I couldn't help but laugh at that while telling her mother
(my brother's wife Nicole)
about her feelings on the matter. And we both had a good chuckle about the whole situation. It was funny! I guess Autumn felt big bows in her hair were for "little" girls, and she was trying to make the assertion that she was no longer in that category. I said all that to say this. When we're younger, we often try to escape our childhood and youth before it's time. So when we're older, it's probably only natural that we want to rush back to anything that reminds us of being a little girl. And I for one, don't see anything wrong with that!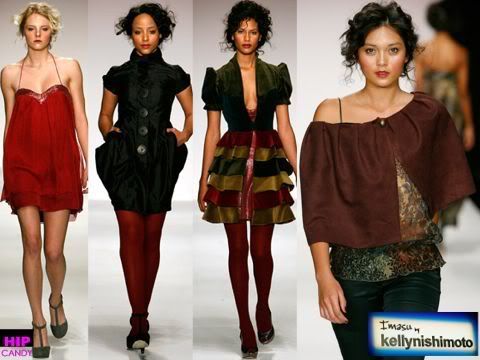 Imasu by Kellynishimoto
kicked off
Los Angeles Fashion Week at Smashbox Studios
with a collection of very young, bright, girly looks. She showcased lots of
big bows
(loved those)
, ruffles, and embellished looks in a rich fall palette of color. When the first look
(the grey knit sweater with the BIG black bow, above)
came down the runway, I remember saying to myself,
(OMG! I love it.)
Other looks I liked were a red sequined, strappy cocktail dress she did and a short black mini dress with pockets accented with oversized buttons. Nice.