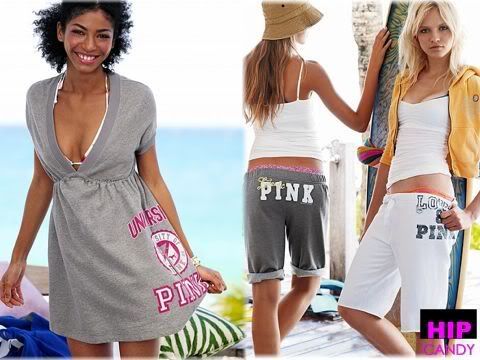 Authentic Victoria's Secret PINK above.
I love the Victoria's Secret PINK line of goods. Love. It. And apparently, so do lots of other people, so naturally other retailers

(namely Macy's)

want to grab a piece of that sweet action ($$$). But wait! There's more! Victoria's Secret is also being sued by Phat Fashions (Russell & Kimora Lee's company) for infringing on their trademark "P" logo... a classic case of what goes around, comes around?


Apparently, Pink is worth fighting over. The Victoria's Secret division of Limited Brands Inc. filed suit against Macy's Inc. and Intertex Apparel Ltd. last week, alleging that the companies are infringing on its Pink trademark by making and marketing similar apparel under their "Pinkish" label.

Intertex Apparel and Macy's "are advertising and selling through Macy's department stores 'knockoffs' of plaintiff's VS Pink apparel, under the mark Pinkish, which are lower in price and of inferior quality," according to the suit filed on April 8.

Victoria's Secret also contended that the Pinkish business amounts to unfair competition from Macy's and Intertex, a New York-based apparel producer."Pinkish Apparel has been designed to be confusingly similar to...VS Pink," the suit said.

The Victoria's Secret Pink brand often includes a pink silhouette of a dog, a stylized P and crown designs, elements that Pinkish also uses, according to the suit. Sold exclusively through Victoria's Secret, Pink has been a hit for Limited Brands, catching on with the college set and expanding into product categories beyond innerwear.
Victoria's Secret is seeking the destruction of alleged infringing apparel and materials, as well as unspecified compensatory and punitive damages. Neither Limited, Macy's nor Intertex returned calls for comment Monday.
Last month, Phat Fashions sued Victoria's Secret, accusing the retailer of inappropriately using a logo, incorporating a P, laurel leaves and a shield, for the Pink brand. In that suit, Phat Fashions charged: "Victoria's Secret is selling infringing merchandise, which is the same as, or is closely related to, merchandise sold by Phat Fashions and is using a design that is deceptively and confusingly similar to Phat Fashion's authentic P laurel leaf and shield design."
Victoria's Secret did not respond to a request for comment on the Phat Fashions suit.