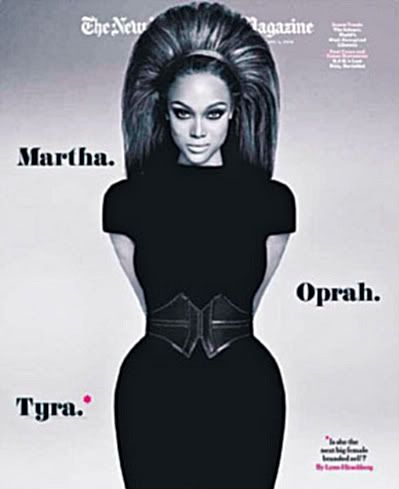 I'm loving this cover pic of Tyra for some reason.  
This Sunday, curvy Tyra Banks is the cover girl, and inside there's a profile written by editor at large Lynn Hirschberg that follows the life of the former model who is turning herself into a brand. 
The  New York Times profile mainly follows her through her responsibilities behind her shows, including
"America's Next Top Model,"
"The Tyra Banks Show."
Banks talks about her early modeling days, relating how her agency made a list titled, ''designers who will not book Tyra because of hips and breasts." But now Banks appears more concerned with her role as a brand: "Like her hero, Martha Stewart, Banks wants, most of all, for her name to immediately suggest a distinct point of view," writes Hirschberg. "Her brand, like her trademark 'tough but still smiling' smile, is consistent in all her shows: serious about the frivolous; empathetic and empowering, and always, always aimed at young women, across all races. It's girly TV with a punch." 
Turning herself into a brand. A smart move and fab look on her.
Source: WWD