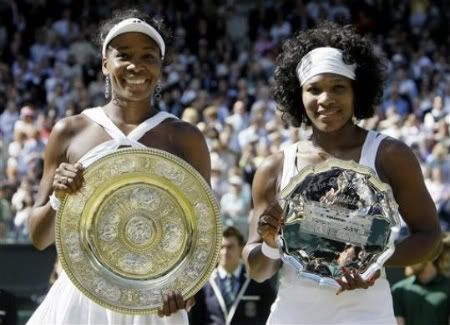 Venus

and

Serena

both made the

top 5 list

of highest earning female athletes.
When it comes to making money in sports, women are narrowing the gap with men, at least at the top of the pyramid. For women, the highest-paid athletes come almost exclusively from tennis and golf, where prize money and endorsement dollars flow overwhelmingly to the brightest stars.

In contrast, women's basketball and soccer are still a long way from producing the next LeBron James or David Beckham.

Golfers Annika Sorenstam, Michelle Wie and Lorena Ochoa have broken into eight-figure earnings territory, a testament to the LPGA's efforts to globalize. The women's tour not only has top golfers from numerous countries (Sorenstam is from Sweden, Ochoa from Mexico, while Wie is Korean-American, born in Hawaii), but has made a point to broaden its international appeal by holding more events for players in their home markets.

oday, the four highest-paid female athletes in the world are from the tennis circuit:

Maria Sharapova (Russia), Serena and Venus Williams (U.S.) and the newly retired Justine Henin (Belgium).



No question, the compelling rivalries of the past decade, particularly between

the Williams sisters,

have done a lot to overcome occasional obstacles like the 1993 stabbing of Monica Seles, the downfall (and brief return) of Jennifer Capriati and the degeneration of over-marketed Anna Kournikova into a caricature of herself.