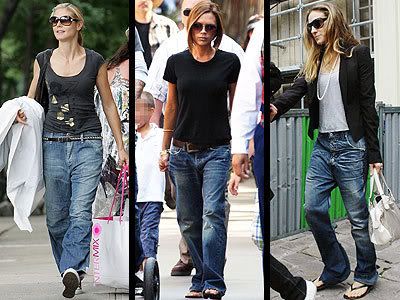 I don't currently own a pair of

baggy jeans

, but I can also say that I totally wouldn't mind a pair.  They just look

majorly

comfortable.  Heidi Klum

(left)

wears her husband Seal's, SJP

(right)

wears her husband's

, and

 

Victoria Beckham

(center) 

wears her husband's David's jeans. 

Katie Holmes

has also been spotted recently wearing hers husband's denim .  Don't have a husband or boyfriend who's jeans you can wear? Purchase a pair a few sizes up

(there's usually a goldmine of these jeans at thrift stores at a fraction of the cost of buying a pair new..)

, accessorize with a belt and, voila!  You got the look. So now I wanna know what

you

think about this trend.  Do you like it? Hate it? Don't care? Would you wear it?  I wanna know your

style verdict

.