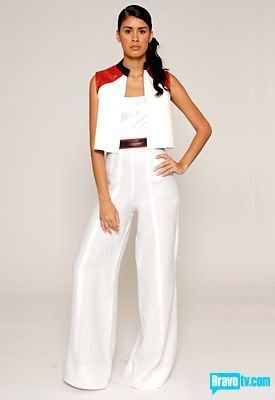 The challenge this week was to design an outfit for the

U.S. Olympic Team

and designer Korto and her model Katrina won this week.  I liked her outfit, I thought she did a chic, updated look for the Olympic Team. Did any of you watch it? Because what I wanna know is, what was up with some of the designers on this challenge?  Especially Jerell, Daniel, Jennifer, Kenley and Kelli 

(Jennifer went home)

. They should have

all

been asked to

take a seat

for what they designed,

Jerell

especially.  They were supposed to be designing something for the U.S. Olympic Team and it's like they just did their own thing.  Blasphemous.