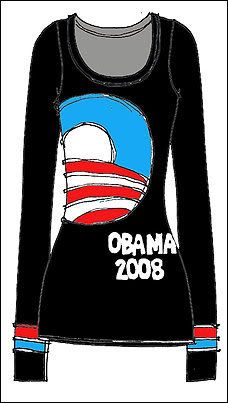 The
Barack Obama campaign
, which has been actively courting the fashion industry, has coordinated some 20 or so designers who are creating official merchandise for the candidate's Web site
(that's Tracy Reese's T-shirt design on the left which will retail for about $80)
. It is the first time, as far as Seventh Avenue long-timers can recall, that a quorum of the fashion industry has organized its financial resources and creative energy around a single presidential candidate.
The mix, available online next month, ranges from T-shirts to tote bags and will lend a bit of runway panache to the Obama brand. The list of participating designers, which includes
Derek Lam, Isaac Mizrahi, Tracy Reese, Charles Nolan
and
Diane von Furstenberg
, covers the full spectrum of the market, from high-end to inexpensive. Other names have been bandied about but not confirmed:
Beyoncé, Russell Simmons, Michael Bastian, Vera Wang
.  The benefit to the candidate is a direct line to the "Project Runway" crowd.