Andre Benjamin

recently introduced his new line of men's wear at a party at Barneys New York during Fashion Week called

Benjamin Bixby

, which includes tweed plus fours and club sweaters with leather elbow patches. The collection was inspired by Ivy League athletics of the 1930s. By designing under an assumed name, Mr. Benjamin is reflecting the latest trend in celebrity fashion, which is for celebrity designers to masquerade as nobody designers, and thereby appear to be more authentic than opportunistic. (

William Rast

and

Edie Rose

are not Parsons alumni, but the labels of

Justin Timberlake

and

Rachel Bilson

.)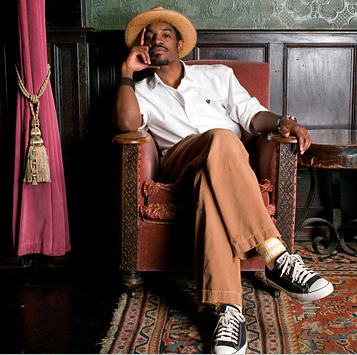 As

André 3000 of OutKast

, he suavely crafted an alter ego with a distinctive retro-preppy-nerdy style and used fashion magazines, which were captivated by his look, to promote his image. He often showed up at photo shoots with bags of his own dandy clothes and was photographed in them, as when he appeared in a long houndstooth overcoat with Kate Moss in Rolling Stone. In 2005, he made the International Best-Dressed List in Vanity Fair.