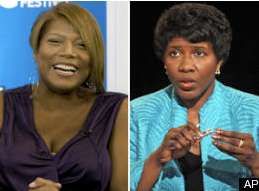 TMZ reported today that

Queen Latifah

would be appearing on

"Saturday Night Live"

this weekend in the role of VP debate moderator

Gwen Ifill

:

Well-placed sources tell TMZ Queen Latifah is getting in the middle of the Sarah Palin/Joe Biden VP debate by portraying last night's moderator, PBS journalist Gwen Ifill, on "SNL" this week. A rep for "SNL" confirmed the news to Huffington Post, saying, "IF we do a VP debate sketch, we have lined up Queen Latifah to play Ifill."

"SNL" has no black female cast members, and only one black male cast member, Kenan Thompson. Fred Armisen, who is of Venezuelan, Japanese, and German ancestry, currently plays Barack Obama on the show.
Wow

.  

I honestly can't wait to see this.