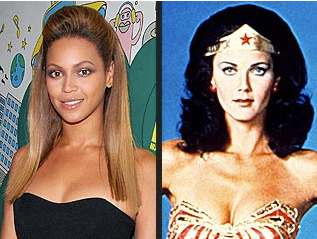 According to People Magazine,

Beyonce

thinks she would be a "bold choice" to play

Wonder Woman

, and she's apparently already met with Warner Bros. movie reps to talk about taking on the role.  Obvious reasons aside, Beyonce isn't the

worst

actress in the world, but she's not the greatest at it either, even for a drama-light, superhero role.  So if I had a vote, then I vote NO:
Already a superstar,

Beyoncé

now has her eyes set on becoming a superhero.

"What would be better than Wonder Woman?" she tells the Los Angeles Times. "It would be great. And it would be a very bold choice. A black Wonder Woman would be a powerful thing. It's time for that, right?"  The singer-actress, 27, has met with representatives at DC Comics and Warner Bros. to discuss donning the red, white and blue bathing suit on screen, she says. 

"After doing these roles that were so emotional I was thinking to myself, 'OK, I need to be a superhero,'" Beyoncé tells the Times. "Although, when you think about the psychology of the heroes in the films these days, they are still a lot of work, of course, and emotional. But there's also an action element that I would enjoy."

Her interest in the role was strengthened earlier this year when she went to New York's Metropolitan Museum of Art and saw on display Lynda Carter's iconic costume. "I would definitely have to keep it right for that costume," she says. "But I love Wonder Woman and it'd be a dream come true to be that character. It sure would be handy to have that lasso."