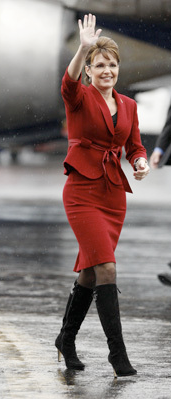 Wow. I almost feel sorry for her a little.  Now mind you, I'm super relieved that she is

NOT the Vice-President Elect (so very,

VERY 

relieved), but this bad news just keeps piling on:
Sarah Palin
left the national stage Wednesday, but the controversy over her role on the ticket flared as aides to John McCain disclosed new details about her expensive wardrobe purchases and revealed that a Republican Party lawyer would be dispatched to Alaska to inventory and retrieve the clothes still in her possession...

For weeks, the McCain-Palin campaign has dealt with the fallout from the disclosure that the Republican National Committee was billed for $150,000 in wardrobe purchases for the Palin family -- a discovery that was widely ridiculed and undercut Palin's hockey mom appeal.

Several McCain aides said they had recently discovered that Palin's traveling staff had used personal credit cards to spend as much as $20,000 to $30,000 on additional wardrobe items for Palin.