Comparisons of Michelle Obama to Jacqueline Kennedy have centered on style and fashion. Watch for Michelle Obama to become a trendsetter, possibly a reluctant one. -Darlene Superville
First Lady-Elect

Michelle Obama

has been both praised and maligned for her style choices. She takes risks. She enjoys trendy American designers as well as more classic looks. She buys online and off the rack, but she's also courted by top designers. So just when you think you know what

Michelle Obama

is gonna wear, she surprises you, and I think that's gonna make her super interesting to watch.  I don't think we're going to be able to box her into one fashion mold, because as soon as we try, she's gonna break out of it and do something totally different.  I, of course, have my own style ideas for her, but I'm actually looking forward to seeing what she does next.
from l. to r. above: 
Michelle Obama

in Maria Pinto, Thakoon Panichgul, J.Crew, Narciso Rodriguez.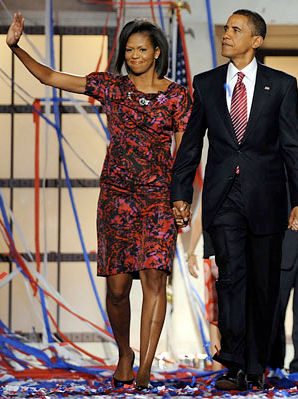 Michelle Obama
in
Thakoon
Michelle Obama
in
Maria Pinto
Also see Michelle Obama's dress from "The View"
Project Runway designers Inaugural Ball dress designs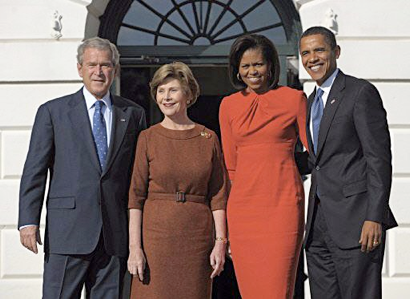 *Updated*

U.S. President George W. Bush and First Lady Laura Bush greet president-elect Barack Obama and his wife Michelle Obama (in a fitted

red

Maria Pinto) at the South Portico of the White House in Washington, D.C. on Monday

November 10, 2008

(see

VIDEO

 of the Obama's arrival to the white house

below

). Obama arrived at the White House for his first visit as president-elect ahead of talks with President George W. Bush, who leaves office in January.