The

66th Annual Golden Globe Awards

took place tonight, and after last year when the awards show was scrapped because of the strikes, the celebs were ready to come out and celebrate this year. Check out my brief rundown of some of what this year's Globes red carpet had to offer...


First off, let me say, I ♥

Heidi Klum

. Heidi's dress

(vintage James Galanos)

was fun and different. Loved it.
WHITE/NEUTRAL DRESSES
There were gobs and gobs of

white,

off white and nude colored dresses

on the red carpet this year! What I posted above is just a sampling, there was so much more white on the red carpet, it was a virtual snowstorm. The winner in the white category would have to go to

Kate Beckinsale

for me

(2nd from left)

. The white dress I liked least? Probably

Sandra Bullock's

. The bottom of it is giving me an antebellum,

"Gone With The Wind"

type vibe that I'm really not feeling.

(l to r: Elizabeth Banks in J. Mendel, Kate Beckinsale in J. Mendel, Sandra Bullock in Dior, Eva Mendes in Dior, Penelope Cruz in Georgio Armani Prive, Beyonce in Elie Saab)
JEWEL TONED DRESSES
A few celebs opted to go with bright jewel toned color which always pops on the red carpet. My winner in the jewel toned bright color category would have to be

Mary Louise Parker's

bright blue gown

(2nd from left)

and the dress I liked least here would be

Freida Pinto's

gold gown.

(l to r: Freida Pinto in Christian Lacroix Haute Couture, Mary Louise Parker in Carlos Miele, Christina Applegate in Roberto Cavalli, Anne Hathaway in Georgio Armani Prive, and Laura Linney)
BLACK DRESSES
It's pretty hard to mess up black formal wear, but trust, it

can

be done

(see Renee Zellwegger below..)

I think

Taraji P. Henson

looked really pretty on the carpet, the pics don't really do her justice here, but my favorite black look out of the ones above would have to be

Sally Hawkins

(far right)

I really liked the way that dress flowed. And actress

Lisa Edelstein

(2nd from left)

gets my honorable mention. I love the bow detail on her dress. My least favorite here was

Tina Fey's

dress, and I ♥ Tina Fey, but I did not ♥ her dress tonight.

(l to r: Taraji P. Henson in J. Mendel, Lisa Edelstein, Kate Winslet in Yves St. Laurent, Tina Fey, and Sally Hawkins)
J. MENDEL DESIGNER DRESSES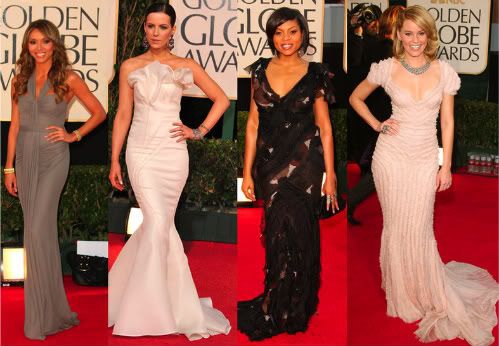 Designer

J. Mendel

had dresses out in full force on the 2009 Golden Globes red carpet. The four

J. Mendel

dresses above are the ones I was able to catch.
RED DRESSES
Yes, a few celebs did dare to wear red on the red carpet. Sometimes it can work (

Sally Field's

dress works to me because of the shorter length) and sometimes the red carpet can drown out your red dress, which is what's happening in

Eva Longoria Parker's

case.

Eva's

Reem Acra dress was beautiful and it fit her perfectly but it get's lost in the pictures because it's almost the exact same shade as the carpet.

Kyra Sedgewick's

Oscar de la Renta dress

(center)

comes off a little better because it's darker.
THE LAST TWO DRESSES OF MY RED CARPET CRITIQUE...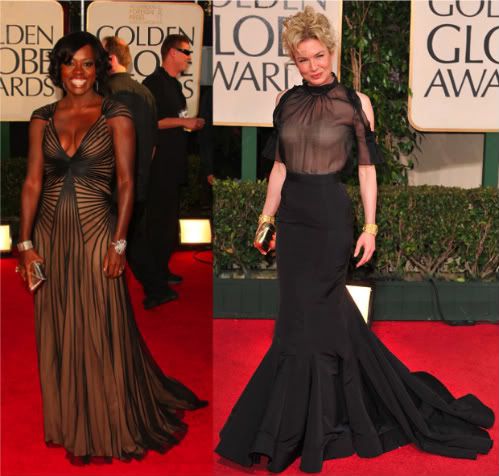 I thought

Viola Davis'

dress was different, it had a unique kind of webbed design that gave it a bit of an edge. And the fit was great on her.

Renee Zellwegger's

Carolina Herrera blouse and black mermaid skirt on the other hand should not have made it off the hanger IMO.

Renee

is usually so polished and together on the red carpet, so whoever told her that this weird sheer bodiced, victorian skirted gown was red carpet ready was doing some

major lie-telling

.

Sooo

not cool.
Click here for a complete list of 2009 Golden Globe winners.