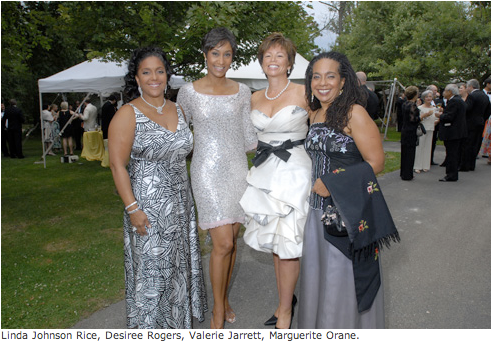 Forget about the official inaugural balls, locally referred to as cattle calls, and candlelight dinners for the $50,000 donors. Washington is humming with more private parties than ever and more events geared toward the African-American community (pictured above at an unrelated event, Linda Johnson Rice, Desiree Rogers, named Obama Administration Social Secretary, Valerie Jarrett, Obama Advisor and long time friend and Margeurite Orane).

"We're twice as busy as we were four years ago, even eight years ago," said Eric Michael, co-owner of Occasions catering firm. "There were plenty of splashy black-tie affairs with lots of obvious luxury for the first Clinton and Bush inaugurals, but no one's doing that this go-round."

Because, said Carolyn Peachey, one of the city's premier event planners, it's not seemly. "If someone proposed serving caviar, I would tell them, 'Bad idea,'" she said. There are fewer baby lamb chops, fewer sit-down dinners, fewer bountiful buffets and more passed heavy hors d'oeuvres. Mac and cheese and meatloaf are popular. Beer and wine are replacing open bars. Service has been scaled back and there are fewer flowers.

For the first time, the African-American community will be out in force, according to Vanessa Reed, whose husband, Thomas, introduced Barack and Michelle Obama at the Chicago law firm where they worked. "There are at least 100 events," she said. "The excitement is overwhelming. A lot of organizations that the mainstream may never have heard of are coming forward, including leaders of African-American churches who are holding an inaugural ball on the 18th."

And BET is doubling its presence. In addition to its annual honors program on Jan. 17, it will hold its first inaugural ball on Jan. 20 to benefit the America's Promise Alliance, founded by Colin and Alma Powell. Most of the caterers are sold out and frantically searching for additional help, as well as trucks, from as far away as New York and Atlanta. But they aren't complaining — just wondering how to get the food and staff to parties inside the Secret Service perimeters on Jan. 20. Some are bringing air mattresses and planning to sleep at the job site.
Read this article in its entirety here.