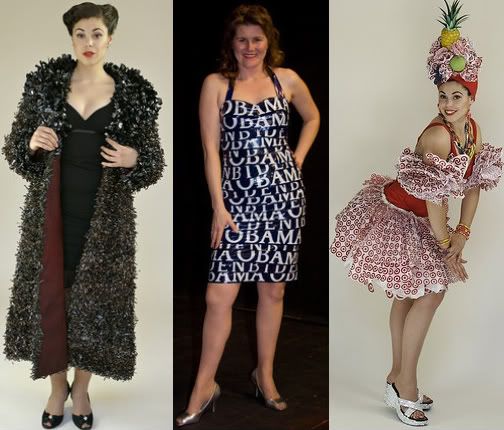 l to r:

A recycled coat made from video and cassette tape, a dress made from thrown out plastic Obama posters, a dress made from Target shopping bags.





Nancy Judd

, a very creative designer

who makes fashion from trash

has been invited to attend Saturday's Green Inaugural Ball in honor of

President Elect Barack Obama

. More deets below:

Ms. Judd spends her days in a studio here crafting clothing from castoff plastic bags, electrical wire and old cassette tapes. Now, her Dumpster couture has caught the eye of environmental activists, who plan to showcase her work in Washington at Saturday's Green Inaugural Ball honoring President-elect Barack Obama.

The star piece: A man's coat made from Mr. Obama's campaign fliers. She says it took her 200 hours to cut and paste and sew it. Showing her stuff in the nation's capital is a big step for a woman who used to put on a furry blue costume and sweat her way through parades as Carlos Coyote, Santa Fe's recycling mascot. Working for the city trash department, Ms. Judd did the coyote gig for years. She also ran workshops and recorded radio ads urging New Mexicans to recycle. But she worried that nobody was paying attention.

Ms. Judd began to wonder whether she could spark new interest in solid waste by making garbage glamorous. Ms. Judd, who is 40 years old, has no training in fashion. She can't sketch. She gets design ideas from old paper dolls. Still, she figured out how to craft a saucy cocktail dress from a shower curtain and aluminum cans. She fashioned a slinky black gown from canvas scraps and hundreds of rusty nails. When worn, it clinks alluringly.

She once spent 400 hours, she says, unspooling cassettes and crocheting the crinkled tape into a fake-fur coat (shown above, left). As attire, the outfits have their limitations. An evening gown sparkling with 12,000 bits of glass tends to shed; a fitted jacket cut from the vinyl top of a convertible is so well insulated, it doubles as a sweat lodge. Also, says Ms. Judd, "you can't sit down in any of them."

Click here to read more and to see a slideshow of Nancy's work.