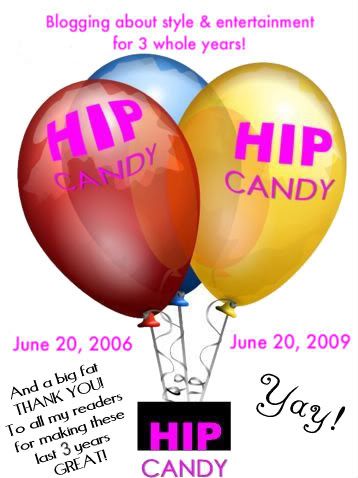 Today is my blog birthday! Hard to believe that Hip Candy has been around for a 3 whole years, with my first post written on June 20, 2006 congratulating the Miami Heat for winning the NBA Championship, lol!

F

un times

. Anyhoo, this blog started out as a hobby, as it does for so many of us who do it, but it has truly turned into so much more. This blog has taken me to fashion week on both coasts (L.A. and NYC) with my husband Ron who served as my official photographer for the '07 and '08 shows 

(his runway pics turned out great!)

, countless interviews as both the interviewer and interviewee, granted me all expense paid trips to cover trade shows (thanks Brizo!) made me a local "cover girl" back in 2008

(thanks 225!)

, and blessed me with more free swag than I can ever use myself

(thx everybody who sent me free swag!)

I just wanted to take this time to say thanks to my advertisers, as I had NO CLUE when I started this thing that I could make $$$ with it, but most of all I wanna say a huge

THANK YOU

to my

readers

, because if you guys didn't click on this thing every day, reading, commenting and yes sometimes even encouraging me, it honestly wouldn't be as fun. But really, I truly appreciate each and every one of you. 
Thanks for making Hip Candy a part of your online style, entertainment (and current events!) routine..
~Chanel