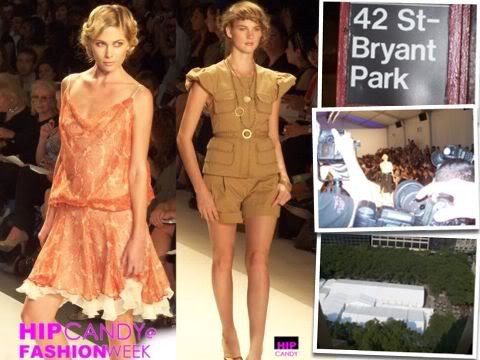 Venexiana SS08 (L), Tracy Reese SS08 (C), random shots from NYFW September 2007, Ron Ward, photographer

That's right. Shows for the Spring/Summer 2010 season have already begun in New York City! It's a little sad for me not to be there covering it in person, especially since invites are still coming in. Yeah, that stings a little... But even though I won't be attending the shows this season :-( I'll still be covering most of the designer collections, the happenings, the trends, the street style, Fashion's Night Out and a lot of the rest of the fabulosity! I'll also be linking specifically to three of my fabulous Facebook friends and link partners who are based in NYC for their comprehensive coverage of Fashion Week events since they're already there and have already hit the ground running for their own sites (Kristin Booker from Fashion.Style.Beauty, Sarah Conley from Style It and Nichelle Gainer from 55 Secret Street) So stay tuned for those Fashion Week links as well.

In the meantime, check out previous Hip Candy NY Fashion Week coverage here as well as a few photos taken from the last shows we attended in NYC, NYFW SS08 by Hip Candy photographer Ron Ward who also doubles as my husband, lol. Check back often for more, more, MORE!