My "Sophia" necktie sheath dress preceded my "Sasha" dress and the first "Sophia" dress I completed was done in the same tribal printed brown and white fabric.

"Sasha" Dress on the left, "Sophia" Dress on the right

But as prototypes and first patterns go, the fit isn't always on point the first go round so there was some pattern tweaking that had to take place to get the sizing and the fit right. And on top of that, the pockets on this dress gave me MAD DRAMA. The POCKETS. That I LOVE to put on EVERYTHING. I must have redone the pockets on the purple "Sophia" Dress about 5 times. Sound crazy? Go back and read some of my earlier sewing style entries to see how impatient I am as a sewer. You'd think I'd have more patience with sewing by now, but you'd be wrong.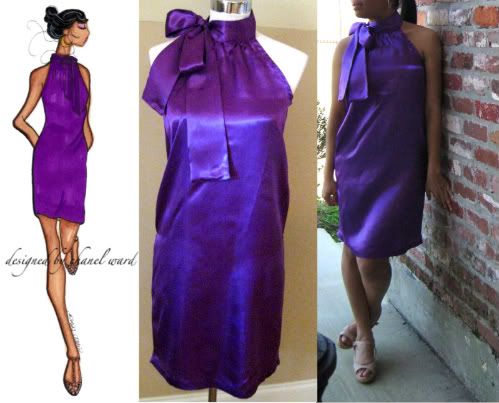 But in the end, I was pleased with the turnout of my "Sophia" dress. Pocket apocolypse and all, lol. The "Sophia" dress is also available to be made in custom sizing in my etsy store. With or WITHOUT *hint hint* the pockets ;) Check it out today.