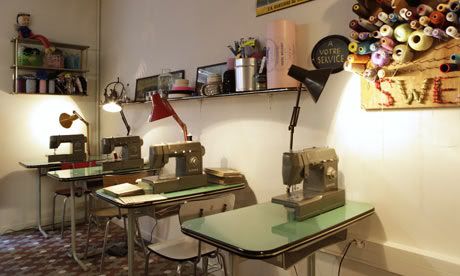 Amid cups of coffee and slices of cake, frivolity and industry are the order of the day at the Sweat Shop, Paris's only sewing cafe, which Swiss makeup artist and an Austrian fashion designer Martena Duss and Sissi Holleis opened last month in a quiet street near the trendy bars and boutiques of the Canal Saint Martin.

They wanted to open a friendly workshop where budding seamstresses and enthusiastic amateurs could practice their art while sipping an espresso or munching on Martena's herb-laden Finnish cake. Along the lines of a typical internet cafe, users can purchase access to a Singer sewing machine – six euros an hour – and come to classes in the evening if they want to improve, for example, their knitting or customising skills. The idea, say the owners, is to reconnect people with the joys of sartorial DIY.

"We want to stimulate people to have a personal relationship again with their clothes," says Duss. "In the last 100 years we have become estranged from the product. We live in such a consumer society. But if you make your own sweater you have a different relationship with it. You get closer to the product."
What an awesomely fab idea.

The Sweat Shop, Paris