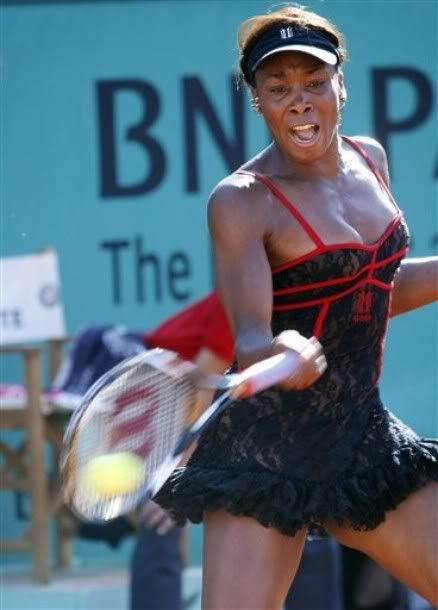 Venus Williams returned the ball to Switzerland's Patty Schnyder during their first round match of the French Open tennis tournament at the Roland Garros stadium in Paris, Sunday, May 23, 2010. But that wasn't the big deal. The big deal was what Venus was wearing. When Venus Williams served Sunday in the first round of the French Open, photographers were down on the ground, getting as low as possible to get pictures up her dress.



[photos via AP Photo Getty Images]
What does it say about women's tennis, always dangerously balancing the sale of sex and sport, when photographers are shooting Venus' serve from the bottom up instead of the top down? "The outfit is about illusion,'' Williams said. "And that's been a lot of my motif this year.'' Click READ MORE HERE below to see what all the fuss was about.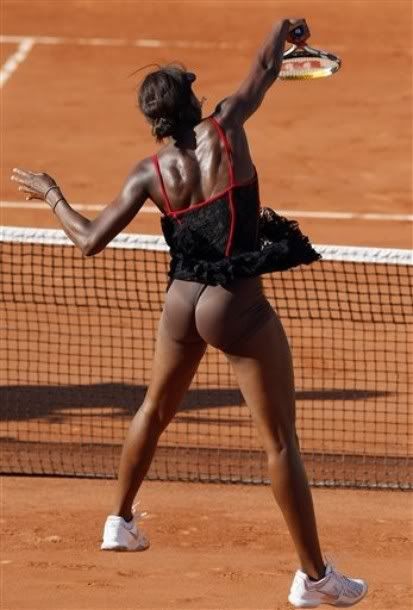 Sunday's dress had a see-through front and skin-tone underwear. And the illusion Williams was going for, apparently, was that she had no pants on. That's fine, as this is France, after all. (By the way, she beat Patty Schnyder 6-3, 6-3.) Continue reading this article HERE.